"Interlake's One-Stop Shop for All Your Needs"
At Distinctive Impressions, we are experts at signage, embroidery, sandblast-etching, sublimation (special inks),
promotional items, vinyl word design and, of course, engraving. We can make "The Perfect Gift" for you!
We work with public & government clients such as rural municipalities, town offices, hospitals, retail & commercial, schools & sport clubs or organizations such as Kiwanis, Rotary Club, Knights of Columbus, etc. Our customers that use our services are from the Interlake of Manitoba (Gimli, Winnipeg Beach, Arborg, Riverton, Selkirk, Petersfield, Clandeboye, Teulon & Stonewall) as well as the City of Winnipeg, the R.M. of West St. Paul & the R.M. of St. Andrews.
We also work with companies such as Showtime Productions, Western Financial, the Winnipeg Goldeyes and the Manitoba Association of Body Builders.
For six years, Distinctive Impressions proudly provided all the awards and promotional items for the East St. Paul Summer Soccer Classic which is the largest soccer tournament hosted in Western Canada.
We take pride in all the products we make and welcome any sized order. Be it one item or one thousand items, we will gladly get the job done for you!
We specialize in:
And more!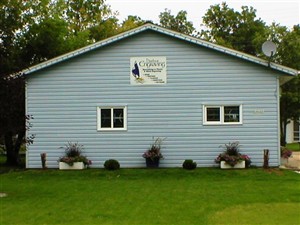 Distinctive Impressions is located in the Town of Winnipeg Beach, which is 40 minutes north of Winnipeg on Highway #9, along the shores of Lake Winnipeg. It is a family-owned business and since it was purchased from the former owners in 2004, Distinctive Impressions has expanded significantly!
Originally we were only able to offer items such as medallions, trophies, recognition plaques and metal/plastic signage. Since then we have added a sublimation system to our repetoire. With this system we are now able to offer our clients an array of personalized, full color items such as mugs, mousepads, tempered glass cutting boards and coasters and much, much more! If you visit our Sublimated Items page you will see a gallery of sublimated products we produced right on sight.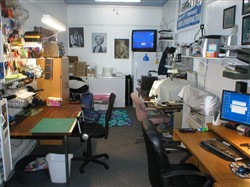 We also purchased a sandblasting system and with this, we are now able to offer sandblast-etching and sandblast-carving on an array of substrates such as glass, wood, stone & metal. The only limits with this system is one's imagination!
To complete our compliment of customized products we could offer, Distinctive Impressions purchased a vinyl-cutter plotter. With this machine we can make indoor and outdoor signage, banners, car decals and vinyl word art. All these items are customized to the client's needs.
We enjoy what we do and are happy to work with our clients to create products tailored to their individual needs! Contact us today and we will work with you to make your visions a reality!